Posted in CC Salon News | 0 comments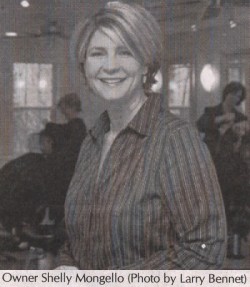 CC Salon & Spa in Westlake, a 20-year mainstay on the west suburban business landscape, is your solution to the winter blues, offering the finest in hair, nail, skin care, and massage therapies. CC is an excellent choice for recharging your mind, body and spirit.
The newly relocated and custom-built salon is striking, with an open floor plan designed in colors that convey an aura of relaxation and peacefulness. "Our clients say it's very warm and inviting, and that this feeling is the first thing they notice when they enter," says CC Salon & Spa owner Shelly Mongello. "Customers tell me our employees stand out among others in the industry because they are exceptionally friendly, very professional, and extremely knowledgeable in all the services we offer."
Whether you have just an hour or want to spend a half or whole day, CC Salon & Spa offers packages for every budget. Make your afternoon a "Special Event" with a one-hour massage, half-hour facial, manicure, pedicure, and shampoo and style. Extend your pampering with a "CC Spa Classic Day Package," which combines a massage and facial with a manicure, pedicure, finished style, makeup and a delectable lunch.
Enjoy a girls' afternoon out with CC's European Touch dual spa pedicure chairs. A warm foot whirlpool and personalized service by an expert pedicurist offers the ultimate in relaxation while you catch up with a friend. Massage therapies include a hot stone, deep tissue, or couples massage. Aromatherapy facials and waxing are also available.
CC Salon specializes in general and corrective hair color, using the renowned Framesi Italian cream hair color, which is extremely vibrant and holds up to even the toughest hair texture. According to Mongello, CC staffs a Framesi color educator who brings the newest trends to the salon before they ever hit the Northeast Ohio market. Stop by CC Salon for any special occasion. The stylists are known for their exceptional updos and formal looks.
Complete your visit with a makeup application by CC's resident expert, who is one of the area's leading artists. CC Salon uses Joey of New York cosmetics, a new line that offers incredible color and a variety of great makeup accessories such as shimmers and highlights. Mongello adds that her make-up professional has a special talent for selecting and blending colors that a client might not otherwise consider. But, they achieve a fabulous look.
CC Salon & Spa staffs a contemporary team of industry experts who each bring more than 20 years of experience to their customers. Most of Mongello's employees have been with the salon their entire career, which is an unusual phenomenon for any business.
Stop by today to pick up a gift certificate for Valentine's Day gift-giving. The salon is open noon to 9 p.m. Tuesday and Thursday, 9 a.m. to 5 p.m. Wednesday and Saturday, and 9 a.m. to 6 p.m. Friday.
CC Salon & Spa is located at 1650 Crossings Parkway off Detroit Road at Crossings Village near Crocker Park. Call (440) 835-3200.