Posted in CC Salon News | 0 comments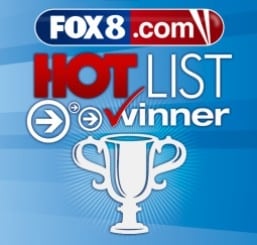 Business uses grassroots marketing and social media to rally fans
Westlake, Ohio – CC Salon & Spa is pleased to announce its win for "Best Hair Color" in WJW-FOX 8 Cleveland's 2010 "HOT LIST" competition. The FOX 8 HOT LIST is an increasingly popular online contest where consumers vote to determine Northeast Ohio's best businesses.
There were 66 salons nominated in the Best Hair Color classification, which received 1,072 total votes. In addition to winning for this beauty specialty, CC was also nominated for the Cleveland-area's Best Hair Salon, Best Day Spa, Best Manicure and Pedicure, and Best Massage.
This year's HOT LIST tallied 142,335 votes from 59,320 voters in 121 categories. The LIST features more than 5,369 local companies that competed for titles in 12 retail industries that also include food, nightlife, fashion, shopping, health and fitness, and others.
"We're really thrilled about this, not because we took part in some sort of reality competition judged by experts and audience opinion, but because our own customers thought enough of CC to nominate us and support us with their votes," said CC Salon & Spa founder and owner, Shelly Mongello.
"During our 25 years, we've always maintained a low profile when it comes to publicity and promotion. We've been blessed to succeed largely because of loyal, long-term clients and employees," she said. "CC has held its own through the down economy, but I've realized that our future growth depends more than ever on increased two-way communication and visibility with our clients and prospects."
Mongello and her staff actively sought FOX 8 HOT LIST votes through Web marketing, text messaging, email blasts, Facebook posts, in-store signage and word-of-mouth advertising. "This effort has shown us the power if not necessity of viral, social media and the importance of using it to open up the dialogue with our clients so we can continue to improve their experience with us."
Still, no matter how aggressive the campaigning, customers won't feel compelled to take action or cast a positive opinion unless the marketing hype meets or exceeds their expectations. "We can suggest all we want that people 'like' or refer us, but we can't click the button for them. We feel really good that enough CC followers believe in their hearts that we are worthy of their vote and the win."
###
The FOX 8 HOT LIST is powered by CityVoter. Read voting FAQs.